Clocks
If functionality is what you're looking for, these tile clocks are a great accent in the home.

To order custom tiles or for information about one of the designs seen here please leave us a message on the contact page.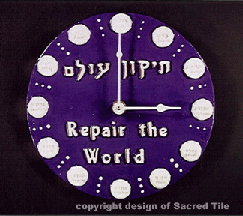 Tikkun Olam "Repair the World" Clock
Available in other languages-clock times are denoted by qualities such as generosity, charity, compassion, etc. 12.5 inches. $100
Bermuda Mariners Compass Clock
Bermuda Mariners Compass Clock 11.5 inches.